How could the amazing Riverside Air Show get any better? How about a great seat for the show parked next to eight (yes, eight) amazing food trucks and a beer garden provided by the rapidly expanding Packinghouse on March 31, 2012 from 10 a.m. to 7 p.m.
We covered the Riverside Air Show 2011 from the Packinghouse parking lot when they were just getting things started. The brewery is located just north of the airport on Central Ave. With their slightly raised elevation, you'll have a great view of everything going on at the airport.
Best of all, the parking lot at Packinghouse is private property, meaning they were able to go through all the hoops to give you access (with no admission fee of any kind) to the following food truck lineup:
Oh, and in case you didn't figure it out already, Packinghouse Brewery will be setting up a beer garden for you to enjoy all of their incredibly popular beers. If you dropped by the Packinghouse First Anniversary Party in 2011, you know these guys can bring down a huge crowd (hundreds, if not more than a thousand throughout the day). The official air show grounds are alcohol free. All proceeds from the beer garden are donated to Multisport RED, which provides fitness for children in the Inland Empire.
Not only is admission free, but parking is also free. To find parking, head down Central Ave. heading west and the friendly Riverside Police Department will give you that look that you need to go no further. Right there is Fremont Street, so find parking, grab your folding chair and walk about 100 yards to Packinghouse Brewery on Central Ave. in the closed off portion of the street.
The only thing that could make this event better would be the audio from the air show, but some prefer to just enjoy the sound of the planes. In any event, you can always drop by early or late in the day and wander over to the air show grounds to hear the play by play. If you have binoculars, you may want to bring them to see the close up action, like the police chase simulation. Besides that, all of the action is in the air, and you'll be able to see it all.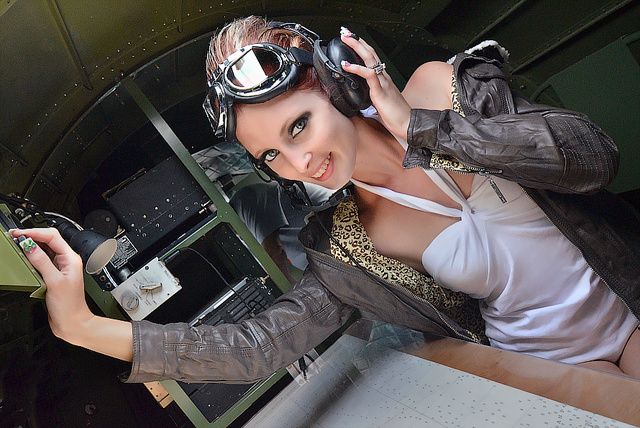 Oh, and for some reason, Model Mayhem will be at the air show (not at Packinghouse) with models posing in front of airplanes.  We just threw this in so we could add that picture.
In any event, the Riverside Air Show runs from 9 a.m. to 4 p.m. on Saturday, March 31, 2012, with the first air event on the lineup beginning at 9:50 a.m. A special thanks to all of the volunteers that make this air show a reality, and often considered the best civilian air show in the Inland Empire.
Categories: Aviation, Beer and Breweries, Drinks, Entertainment, Fairs & Festivals, Food, Food Trucks, Free Things To Do, Fundraisers, Riverside, Sports, The Inland Empire